More than 350 knife crimes in Birmingham and Black Country schools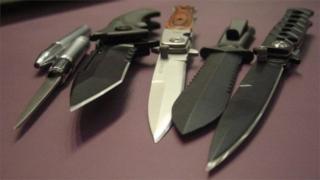 A total of 352 knife-related crimes were committed in Birmingham and Black Country schools in the last six years, new figures have shown.
West Midlands Police said there were 260 instances where children were caught in possession of a bladed article in schools.
Weapons ranged from screwdrivers to knuckle dusters and machetes.
Birmingham City Council said its schools had been part of a police project to tackle the issue.
Police said officers were visiting schools to "steer young people away from knife crime".
Pupils as young as ten were found to be armed with kitchen knives, razor blades and broken glass on school grounds.
Children aged 15 are shown to have brought in the most bladed articles into school, with 90 reported instances since 2012.
Birmingham, Coventry, Dudley, Solihull, Sandwell, Walsall and Wolverhampton were all included in the report, with Birmingham schools topping the list for the most bladed articles brought in.
'Catastrophic consequences'
The city saw 149 bladed articles brought into schools since 2012/13, with Wolverhampton a distant second at 25.
West Midlands Police knife crime lead Supt Ian Parnell said: "The consequences of carrying knives can be catastrophic.
"The people we find most often in possession of a knife are young men aged between 15 and 19.
"We are working to deter young people from carrying knives through our Precious Lives project. Hundreds of thousands of school pupils have now seen the hard-hitting presentation."
In May last year it was revealed a total of 2,579 weapons were seized from schools in England and Wales in just two years.
A spokesman for Birmingham City Council confirmed its schools had been covered by the Precious Lives Project and that it was the largest local authority included in the police report.
City of Wolverhampton Council was unavailable to comment.