Sandwell council leader brands MP James Morris a 'coward'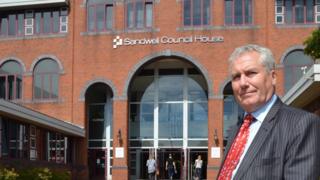 The leader of Sandwell Council has branded an MP a "coward" and said he will launch a complaint over his speech in Parliament.
On Thursday, James Morris, Conservative MP for Halesowen and Rowley Regis, labelled the council as a "rotten regime" and urged the leader to step down.
Labour councillor Steve Eling has said he will not resign and claims the MP's allegations are "un-evidenced".
Mr Morris declined to comment.
Council leader Mr Eling was responding to the MP's claims that the authority was a "swamp" of "incompetence, corruption and cronyism".
He said Mr Morris was "crawling around in the political gutter" and "broke parliamentary protocol" by "maligning individuals that have no case to answer".
Mr Eling also said he would be "making a complaint to the speaker that James Morris has abused parliamentary process".
"I will lay evidence from an independent review from Sandwell Council produced recently that blows away everything he has said," he added.
In his speech at the House of Commons, Mr Morris alleged that Labour-run Sandwell Council had become "synonymous with local government incompetence, corruption and cronyism and become a stain on the reputation of the area".
His comments came after a hearing on Wednesday at which councillor Ian Jones's involvement in the sale of council land six years ago was found to have breached the authority's code of conduct.
A Local Government Association peer review looking at the running of the council "disproves all the allegations" the MP made, according to Mr Eling.
The findings of the review have not yet been published.