MP James Morris denounces Sandwell Council's 'rotten regime'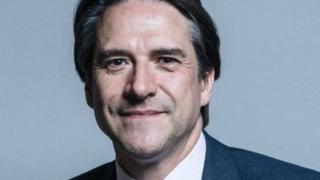 An MP has called his local council "a stain on the reputation of the local area" in a speech made in Parliament.
Conservative Halesowen and Rowley Regis MP James Morris urged Sandwell Council leader Steve Eling to step down.
He also wants the government to send in commissioners to end the "rotten regime" he alleges has a hold of the local authority.
Mr Eling said the allegations made by the MP were "malicious and un-evidenced".
Midlands Local Live: Private search team continues hunt for Coventry mum; Flood alerts as rivers rise
In his speech at the House of Commons, Mr Morris alleged that Labour-run Sandwell Council had become "synonymous with local government incompetence, corruption and cronyism and become a stain on the reputation of the area".
The MP alleged that Smethwick Labour councillor Richard Marshall was bankrupt and therefore should not continue to hold a position in the council and that he and Mr Eling had asked a blogger to give the authority's assistant chief executive a "kicking".
The issues facing the council, according to the MP, include "the abuse of power, manipulation of processes and a culture of fear and bullying".
His comments come after a hearing on Wednesday at which Councillor Ian Jones was found to have breached the authority's code of conduct. Mr Jones walked out before a panel of his colleagues decided his involvement in the sale of council land six years ago amounted to a breach.
Earlier this month, former deputy leader Councillor Mahboob Hussain was found to have breached the code by trying to cancel parking tickets for family members.
In his recommendations, Mr Morris said the Department of Housing, Local Government and Communities should make the "strongest intervention possible" at the council and bring in an independent commissioner.