Birmingham care workers protest over shift changes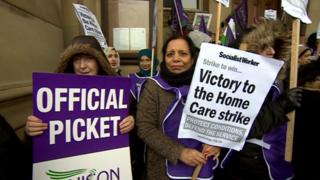 Care home staff have staged a strike over shift changes.
About 350 workers, employed by Birmingham City Council, took part in a three-hour protest outside the city's Council House in Victoria Square.
The union Unison said new working hours had been proposed which would see staff working triple split-shifts over a 16-hour day.
The council said change was "vital" to better meet patient needs.
At the moment, the workers do two or three split-shifts a fortnight.
However, under the new plans all shifts in a five-day week would become triple split-shifts, with two-hour breaks between blocks of work of three to five hours.
'Last resort'
Unison branch secretary Caroline Johnson said the workforce was unsure if it would be able to cope with the changes. She said they would prefer a self-rostering system.
"None of these workers want to take industrial action," she said.
"They care about the people they support, which is why they are taking action in a way that minimises the harm to the people they care for.
"This really is a last resort."
'Absolutely vital'
Councillor Paulette Hamilton, cabinet member for health and social care, said it was "disappointing" Unison had decided to take industrial action.
The council said it wanted to ensure there were adequate evening and weekend shifts and there was staffing to support people being referred from hospitals.
She said officers had been in negotiations with Unison for nine months to try and reach a resolution.
"It is absolutely vital we make these changes because the current system simply does not provide a good enough service for our residents," councillor Hamilton said.