'Cancel Harry Potter' beg snowed-in fans in Birmingham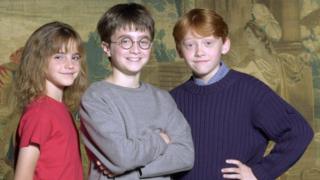 A venue set to host a special Harry Potter show has done what angry fans wanted - and called it off.
Ticketholders demanding an event be axed is a back-to-front scenario rarely seen beyond spells cast at Hogwarts.
But fans of the boy wizard feared they may encounter dangerous roads en route to the Genting Arena near Birmingham, which has been hit by heavy snowfall.
Despite customer pleas, the show looked like going ahead until it was postponed three hours before the performance.
Genting Arena is near Birmingham Airport where 25 flights on Sunday were cancelled before runways reopened.
Birmingham resident Jeff Waits, whose wife had a ticket, told the BBC the show should have been called off - and a lot sooner.
He said the decision was "late in the day for those travelling from further afield; they have to turn around and make their way back home".
The event - in which an orchestra plays a live soundtrack to a showing of The Chamber of Secrets film - was due to begin at 16:00 GMT.
On Sunday morning, Genting Arena said on Twitter the show would be going ahead and visitors should allow extra time for their journey.
That drew complaints from those fearing for attendees' safety.
Then at about 13:00, a second Twitter post by the venue said the show had been "postponed due to extreme weather conditions" and information on refunds and rescheduling would follow.
A spokesperson said: "We are communicating directly with customers that were due to attend the event to let them know of the cancellation and will keep them updated with further information as and when we are able."
That was not good enough for some.