Concern over Black Country mental health care shake-up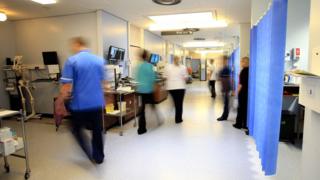 A planned shake-up of mental health services poses a risk to patient safety because of a lack of medical expertise at the top, doctors claim.
A new organisation is set to bring existing Black Country services under its banner, but there are fears it will marginalise doctors.
Critics say that medical involvement at leadership level is vital for ensuring safety and service quality.
The takeover group has pledged there will be "no negative impact".
Under proposals, two NHS trust service providers - Black Country Partnership and Dudley and Walsall Mental Health Partnership (DWMHP) - would be acquired by Birmingham Community Healthcare, which deals with physical health through community services within the city and wider region.
They have already been working in partnership under a project called Transforming Care Together (TCT).
'Top-down approach'
The body resulting from the proposed takeover is yet to be named, but it would be a single organisation, which, the TCT says, is designed to "deliver care in more joined-up ways".
A medical advisory committee representing doctors across Walsall and Dudley has written to DWMHP's chief executive to say the arrangement would minimise doctors' role at leadership level; an alleged top-down approach that could, they say, compromise patient safety, should service quality suffer.
Karen Dowman, a former chief executive of Black Country Partnership, is also concerned the new leadership team does not have enough experience of mental health services. She says doctors have "concerns around the lack of knowledge around mental health services".
And the BBC understands a clinical director at Birmingham Community Healthcare, Imad Soryal, has written to regulatory body NHS Improvement to question the logic of a community trust taking over mental health trusts.
Birmingham Community healthcare said: "There will be no negative impact on the safety and quality of services as a result of TCT and keeping our patients and service users' safe is - and will always be - our first priority.
"The robust processes currently in existence in Birmingham Community Healthcare as a high-performing organisation will be adapted and enhanced based on best practice in both Black Country Partnership and Dudley and Walsall."
Patient benefit
The takeover was earmarked for December 1 but that date has been put on hold.
NHS Improvement said: "The first priority in any transaction is patient benefit.
"Clinical benefits are being assessed as part of the assurance process, and that involves input from a range of stakeholders. We expect our assurance process to conclude next year."
DWMHP's chief executive Mark Axcell has written to trust members to say "integration" was progressing, adding "further preparatory work is required on elements of the business case including an independent review of proposed medical management arrangements".