Man sectioned over Cradley Heath fatal stabbing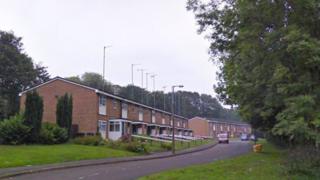 A man has been detained under mental health laws after a man was killed and three others injured.
The 43-year-old was arrested on Monday on suspicion of murder after a man was stabbed in his home in Cradley Heath, West Midlands on Sunday evening.
He was also held under suspicion of attempted murder after three people were attacked with weapons within two hours on the same evening.
The man is believed to have known the victims.
Midlands Live: 'Breaking Bad' gun dealer; arrests over ten-second Aldi purse snatch
The body of a 47-year-old man was found just before midday on Monday at his home in Congreaves Walk but police believe he died at about 18:00 GMT on Sunday.
The three assault victims were attacked at addresses on Dingle Avenue, Poplar Close and West Avenue. Their injuries are not life-threatening.
Det Ch Insp Edward Foster, from West Midlands Police, said: "We have established a timeline of offences and suspect three people were subjected to nasty assaults involving weapons, including a knife and metal bar, in the space of just over two hours.
"It's then believed the same attacker stabbed a man in his home in Corngreaves Walk just after 18:00 but that his body lay undetected in the house until just before midday the following day."
Anyone who witnessed a disturbance in the area on Sunday is encouraged to contact police.