Birmingham pub bombings: Families 'refused legal aid'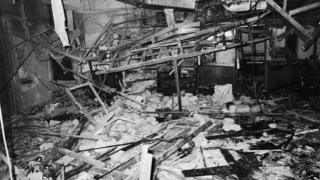 The families of Birmingham pub bombing victims say they have been refused legal aid to challenge a ruling that suspects should not be named.
Julie Hambleton, whose elder sister Maxine was killed, said they had been "left with our backs against the wall" ahead of a judicial review next month.
They are fighting a coroner's decision that IRA suspects will not be named at new inquests into the 1974 attacks.
The Ministry of Justice said the bid did not meet strict criteria.
Twenty-one people died when two bombs were detonated in the city centre.
Midlands Live: 'Sex' woods to reopen and virtual reality view of Coventry Blitz
Senior coroner Sir Peter Thornton QC said in July "the perpetrator issue" was not within the scope of next year's hearings.
Lawyers for the relatives said discussing potential perpetrators was "central to the case". And the victims' families, who fought for years to have the inquests reopened, said they would boycott them as a result of the decision.
Mrs Hambleton said the families wanted the investigation to consider "who made the bombs, who directed them, who carried them, who planted them and their associates".
She said they had raised £17,000 to apply for the judicial review but the Legal Aid Agency "appears not to think there is such merit or sufficient public interest" to award public funding for the challenge.
"This is yet another example of how the families are continually being obstructed from getting to the truth and from having fair access [to legal funding]."
The families are now trying to raise £20,000 ahead of the two-day review to "fight for our loved ones who are not here to fight for the truth, justice and accountability themselves".
In a statement, the Legal Aid Agency said: "Our deepest sympathies remain with the families of the victims.
"However, funding can only be granted to legal aid applications that satisfy the strict criteria set by law."
No one has been charged with the attacks since six men were freed from prison in 1991.