Birmingham's Big Sleuth bears raise over £250,000 for charity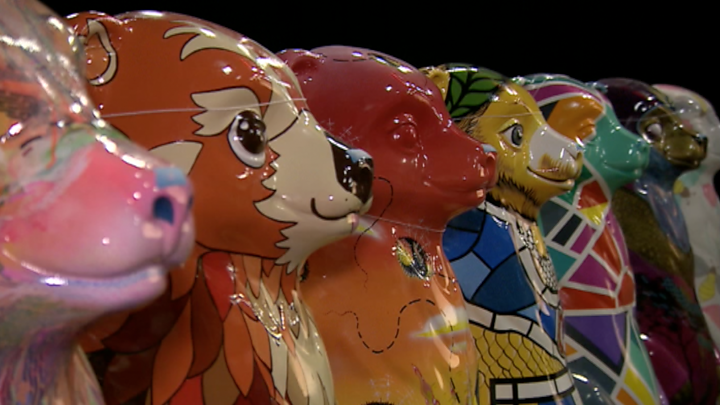 An auction of giant ceramic bear statues, which were part of a summer art exhibition, has raised £257,300.
The 91 Big Sleuth bears were displayed across Birmingham, Solihull, Sandwell and Dudley.
A Peaky Blinders bear inspired by the BBC drama sold for £5,900, while the Sweet William bear, voted the most popular by the public, sold for £6,100.
The decorated bears were auctioned off to raise money for Birmingham Children's Hospital Charity.
More than 100 bears were made, with eight of them featuring in Solihull, six in Sutton Coldfield and six in the Bearwood and West Bromwich areas of Sandwell.
Ninety-one of them were auctioned at Thinktank, Birmingham's science museum, on Thursday after costing £6,000 in corporate sponsorship money each to make.
Bears that were sold included Buzz Bear for £9,000 and Peony Passion for £8,000.
Two will end up in restaurants after Dorian Chan, from Birmingham, bought Peabody for £2,800 and Bearjing for £2,600.
She said: "I'm from Hong Kong originally. I think the word came from Beijing. It looks like a dragon and I was born in the Year of the Dragon.
"[They will] have a tour around people in the Chinese community who may not have seen them."
Train operator London Midland bought The Bear That Cares for £7,000 and will give it to Birmingham Children's Hospital.
The hospital charity said the bear was inspired by a girl, Arabella, who died at the hospital and was the daughter of a cousin of one of the artists, Kieron Reilly.
Arabella died at just under eight weeks old due to an extremely rare heart condition, the artist said.
Ten bears that were not auctioned had been funded and produced by the community, and are going back to the same communities.
In 2015 giant owls from The Big Hoot raised over £500,000 for the hospital.