Solihull man guilty of 'I've got acid' attack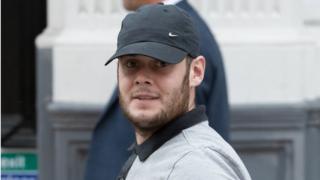 A man has been convicted of a roadside "acid" attack after squirting a bottle of cleaning solution at two men drinking outside a pub.
Max Kelly, 23, was in a car being driven by a friend when a row broke out near a pub in Solihull.
His victims told the court Kelly got out of a car "brandishing" a plastic "squeezy bottle" and shouting "I've got acid" before spraying it at them.
A district judge found Kelly guilty of two counts of common assault.
Prosecutor Mukhtar Ubhi told Birmingham Magistrates Court the two victims, Robert Robinson and David Hobson, became aware of "a dark-coloured BMW being driven erratically" when they were outside The Chalice pub in Dickens Heath.
Midlands Live: Police cleared in baby's ashes row; 'Police cuts' impact on remembrance parade
The court heard that Mr Robinson shouted at the driver to "slow down, you t**ts".
The car returned which was when Kelly squirted the liquid at both men.
Mr Hobson told the court he was sprayed on his shirt after Kelly "came at me with the bottle".
He added: "It had a smell like ammonia."
The liquid was described by Kelly as "watered-down cleaning solution" used to wash a conservatory which he believed "wouldn't hurt anyone".
He claimed to have acted in self defence when Mr Robinson came towards him with an ashtray in his hand and Mr Hobson had "thrown a punch".
The landscape gardener said he squirted the liquid "to scare them".
District Judge Neil Davison said: "It doesn't alter the fact that when he got out of the car, with a bottle, he wasn't acting with self defence."
The car's driver Benjamin Prentice, of Hexton Close, Solihull, was fined £140 at an earlier hearing after admitting a public order offence in connection with the confrontation.
Kelly, formerly of Sark Drive, Smiths Wood, Solihull, will be sentenced next month and was warned he faces jail.