Woman, 93 found dead on Cradley Heath care home floor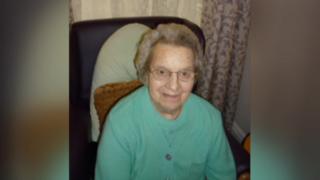 An elderly woman was found dead on the floor of a care home, an inquest heard.
Margaret Janney, 93, was discovered at the Roxburgh House Care Home in Cradley Heath, West Midlands, on 10 February.
An inquest at Oldbury alo heard staff did not call 999 and her family did not find out she had been found on the floor until four days later.
Recording an open verdict, Black Country Coroner Zafar Siddique said it could not be established how Ms Janney came to be off of her bed.
Midlands Live: 'Murder bid' arrest over drive-by shooting
Ms Janney, described as active and lively, suffered an infection and was admitted to hospital on 24 December 2016.
She contracted pneumonia and her condition deteriorated. She was returned to the home where she was put on an end-of-life plan.
A post-mortem examination found Ms Janney, who was immobile, had nine fractured ribs and probably died of a heart attack.
However, it could not be established whether she suffered the heart attack before or after she was on the floor.
The hearing was told then-deputy manager Caroline Bomber lifted Ms Janney's body and put her back to bed.
She was dismissed after failing to tell the GP who certified Ms Janney's death that she had been found on the floor and then moved, the hearing was told.
Sammie-Jo Gardner, a senior carer who was also dismissed, did not carry out the required 30-minute checks on Ms Janney, the inquest heard.
Recording the verdict, Mr Siddique, said: "Regrettably, it still remains unclear as to the exact sequence of events that led to Ms Janney being found on the floor."
HC-One, which runs the home, said: "We conducted a thorough internal investigation and, as a result, a number of staff have been dismissed.
"As soon as this incident came to our attention, we acted immediately to notify the relevant authorities and suspend the individuals involved.
"We were deeply concerned by the conduct of these former staff members, which was wholly unsatisfactory and went against everything we stand for as an organisation."