Man held over targeted Birmingham drive-by shooting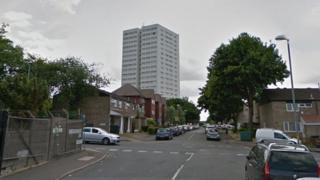 A man has been arrested on suspicion of attempted murder after a targeted drive-by shooting.
Shots were fired from a car in Small Heath, Birmingham, on Monday afternoon, when many people were out and about, police said.
A 27-year-old man from Oldbury is being questioned after the vehicle believed to have been involved was stopped in Bordesley early on Tuesday.
Police believe the offender knew the intended victim who was unhurt.
Midlands Live: 'Stabbed for being Polish' and men charged with children's home abuse
The car has been seized for forensic examination and the junction of Arthur Street and Bolton Road in Small Heath cordoned off.
Police described the shooting as "hugely reckless" after the weapon was discharged in public "when many people will have been out and about".