'Serious birth incidents' at Dudley trust 'not investigated'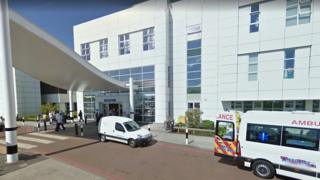 "Serious incidents" in a maternity unit were not investigated properly and opportunities missed to prevent more from occurring, a report has found.
Twenty five cases were reviewed - 19 relating to care affecting babies and six to women - in maternity services at the Dudley Group Foundation Trust.
The review found five cases where there was avoidable harm and one death.
The trust has offered "sincere condolences and apologies" but not given further details around the cases.
Diane Wake, the trust's chief executive, said they had been open with the families who were given the opportunity to actively engage in the review process.
The trust has three hospital sites across the Black Country and maternity services help deliver about 4,600 babies annually.
Investigations 'inadequate'
The maternity unit's neonatal mortality and stillbirth rates "compared favourably" with national figures in 2014-15, the report said. It was also rated as good by the Care Quality Commission at its last inspection.
However, in early in 2016, NHS England alerted Dudley Clinical Commissioning Group to concerns about the high number of "serious incidents" in maternity services between April 2014 to December 2015.
An internal review group was set up along with input from an external consultant to review the 25 cases.
The report said that after an "incident", it was necessary to establish what happened, what went well and what did not and what actions should be taken as well as involving the patient and their family.
Improvement plan
The review confirmed investigations were "inadequate, learning was not identified appropriately, and that there was harm in some cases".
Other findings included cardiotocography heart rate monitoring was misinterpreted in some cases and the wellbeing of an unborn baby was compromised.
There were also delays in concerns being escalated in a "timely manner" to senior obstetricians and staff being too slow in responding to urgent situations.
The report said the trust had since introduced a comprehensive improvement plan for maternity services, including a new training programme around "serious incidents".
"This addresses the issues identified and provides assurance about the safety and effectiveness of the maternity services in Dudley," the report said.