Hammy the pig finds new home after attacking neighbour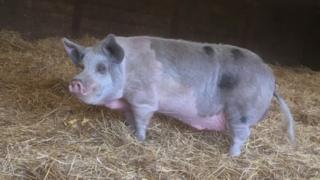 A pig that gored a woman when it escaped from a neighbour's garden has found a new home in an animal sanctuary.
Hammy, a four-year-old male pig, attacked Marie Yates after breaking into her garden on Heathfield Lane, in Darlaston, West Midlands, on Wednesday.
Miss Yates, who required stitches, said she thought the pig would kill her.
However, staff at the Goodheart Animal Sanctuary in Worcestershire said they felt Hammy had been "misunderstood".
Miss Yates, a carer, said the animal had gored her left shin and right thigh with its tusks.
She was taken to Walsall Manor Hospital for an operation on the 8in (20cm) wound and said she would be reluctant to return to her home while the pig still lived next door.
The animal sanctuary, based near Tenbury Wells, said the pig's owners had contacted them about giving Hammy a new home.
The pig was transported to the sanctuary on Friday evening and is currently being kept in quarantine, as is standard for new animals, before he joins the farm's other three pigs.
Farm manager David Bourne said: "He's been as good as gold since he got here. I think the poor guy's been misunderstood."
Mr Bourne said he believed Hammy was a mixture of breeds but was part Gloucester Old Spot.
"His owners took him in thinking he was going to be a micro-pig but he's a lot bigger than that," he said.
Hammy will remain at the 92-acre site for the rest of his life, according to Alison Hood, the sanctuary's director.
She said Hammy's previous owner had "realised that having him in his back yard was leading to problems and he took the responsible course of action".
"We are all wishing Marie Yates a speedy recovery," she said.
"If you are thinking about getting a pig as a pet, please think carefully."