Lost Tony Hancock scripts to be performed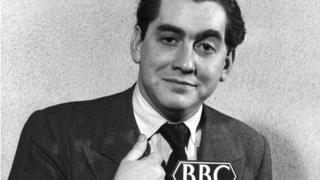 Two lost scripts that were written for comedy giant Tony Hancock are to be performed for the first time.
The scripts, pilots for a 1952 radio series named Vacant Lot, were penned by West Bromwich writer Larry Stephens.
The scripts were never performed and lay undiscovered in the BBC archives until 2015 when they were found by one of Mr Stephens' relatives.
They will be showcased at the Funny Things comedy festival in Wolverhampton on 4 November.
'First British sit-com'
Dave Freak, from the Birmingham Comedy Festival, who is producing the Wolverhampton show, said the scripts were "unique" for several reasons.
"They are full half-hour scripts with a single storyline," he said.
"We believe this was the first time the BBC used the phrase 'situation comedy' to describe a series so, as far as we know, it's the first British sit-com. And it would have been Hancock's first star vehicle."
Despite a stellar line-up being mooted for the series, including names such as Peter Sellers and Spike Milligan, the show was eventually dropped without having ever been recorded.
"The BBC couldn't decide how to stage it - whether to record it in front of a live audience, for example," said Mr Freak. "It ended up getting shelved."
Mr Stephens, a Hancock associate, went on to write many episodes of The Goon Show, but died suddenly in 1959, aged 35.
Tony Hancock - originally from Birmingham - became a household name, most famously through Hancock's Half Hour, broadcast on radio and television.
The new production, which will feature James Hurn, of Dead Ringers fame, in the Tony Hancock role, will be staged at Wolverhampton's Light House Media Centre.
"The scripts are really interesting," said Mr Freak. "It's fascinating to wonder how things would have panned out if a full series had been commissioned."