Birmingham care home boss stole £90k from 97-year-old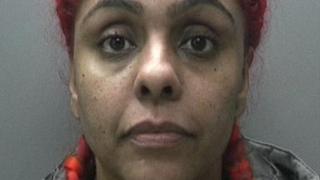 A care home manager who stole over £90,000 from a 97-year-old resident has been jailed.
Carleen Wilkins, who managed the home in Birmingham, stole her victim's bank card and used the money to pay off debts, payday loans and gambled money at casinos, West Midlands Police said.
She withdrew hundreds of pounds from the account every day for over a year.
Wilkins, 40, admitted theft and was jailed for 31 months at Birmingham Crown Court on Thursday.
Midlands Live: Pig on the loose bites woman's legs; rally over Kingsley Burrell death police verdicts
Police said the victim was living in the care home, in Handsworth Wood, at the time of the offences and was not aware she had a bank card or a pin to access her account.
Wilkins, of Overdale Road Quinton, was arrested after she escorted the victim to the bank in February 2016.
'Dishonest individual'
The branch became suspicious and checks found daily withdrawals totalling more than £90,000 over a 12-month period.
Staff became concerned as the customer did not bank by card and alerted police.
The force said Wilkins admitted withdrawing the money, but denied any wrongdoing and said she withdrew the money on a daily basis as the victim did not trust the bank.
She also claimed the victim spent the money on bottles of sherry.
Det Con Lisa Morris, from West Midlands Police's adults at risk team, said: "Carleen Wilkins is a dishonest individual who abused her position of trust as a care worker to remove money from an elderly woman's account for her own gain."