Woman gored by pig in Darlaston 'thought she would die'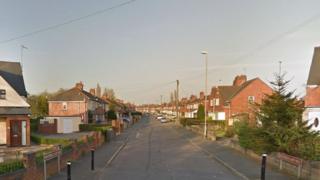 A woman gored by a pet pig which escaped from a neighbour's garden has said she thought she would die in the attack.
Marie Yates, 61, said she spotted the animal in her garden on Heathfield Lane in Darlaston, West Midlands, and went outside to shoo it away on Wednesday.
"It gored my left shin and my right thigh with its tusks," Miss Yates told the Express and Star newspaper.
"Blood was gushing out and I thought it was going to kill me."
Miss Yates, a carer, said she managed to escape from the animal by crawling around the side of her car.
"Another neighbour heard my screams and phoned for an ambulance," she told the BBC.
Midlands Live: Birmingham 2022 Games bid 'not compliant'
Miss Yates was taken to Walsall Manor Hospital for an operation on the wound, which measures around 8in (20cm).
"Initially, they thought I might need plastic surgery," she added.
Miss Yates said in the past she contacted Walsall Council's environmental health department over concerns about the animal, which she believes is called Hammy and is around three years old, but nothing was done.
"I don't want to go back home while the pig is still there," she said.
David Elrington, regulatory services manager at the council, said he wished Miss Yates a speedy recovery.
"Our animal welfare inspector will make a visit to ensure that the area where the pig is housed is secure and also to assess its welfare," he said.
West Midlands Police said the pig was returned to its home and there was nothing further they could do at this stage.
"There is legislation covering dog attacks but nothing for pigs," the force said.