Birmingham bin strike: Crews resume weekly collections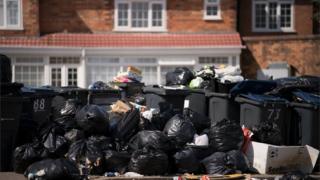 Birmingham bin workers are expected to resume making regular collections following a three-month strike.
The industrial action, which was prompted by a dispute over job losses, saw rubbish pile up on the city's streets.
Union Unite had warned the strike could run into the new year.
However, the city council says crews have now returned to work and weekly and fortnightly collections would resume from Monday.
The BBC has asked Unite for a comment.
Strike action has been suspended since 20 September and councillor Lisa Trickett, who oversees environment on the Labour-run authority, said collections were resuming, "much more quickly than expected".
'Challenging period'
"I would like to thank the crews for their help in this matter," she said.
"I am grateful to people across Birmingham for the patience and understanding shown during this extremely challenging period."
The council said weekly rubbish collections would restart, with recycling and garden collections undertaken fortnightly.
Robert Alden, leader of the authority's Conservative group, said he welcomed the news.
However he added: "The reality is that thousands of properties are still to be collected with black bags and overflowing bins [in] many parts of Birmingham.
"I suspect we are still some way off from normal service."
Workers began staging stoppages across shifts in June when Unite claimed restructuring plans threatened the jobs of more than 120 staff.
On 16 August, strike action was suspended, with the city council provisionally agreeing certain posts would not be made redundant, and collections resumed.
Union officials said in return they would recommend staff considered accepting rota changes.
However, on 31 August the council said it was issuing redundancy notices to certain grade three workers "in order to protect its legal and financial position".
This prompted the strike to resume on 1 September.
On 20 September industrial action was suspended when the High Court granted an interim injunction against the council's bid to make workers redundant.
A trial to determine if the council acted unlawfully in issuing redundancy notices will take place in November.