Second Solihull councillor in anti-Muslim tweet probe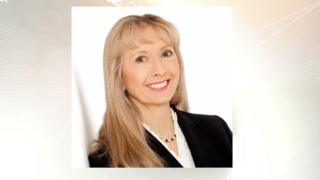 A second Conservative councillor is being investigated by a council over anti-Muslim retweets.
A complaint has been made against Margaret Bassett over retweets that included newspaper stories about crimes committed by Muslims.
Jeff Potts was suspended last week from Solihull Council's religious education committee over a similar allegation.
Miss Bassett, the councillor for Silhill ward, Solihull, says she is the subject of a "witch hunt".
The councillor's retweets include a reply from a Twitter user to former EDL leader Tommy Robinson.
It showed a picture of London mayor Sadiq Khan with the text, "defiant London Mayor proclaims we will not be defeated! World starting to wonder - who does he mean by we?"
In another post she retweeted a map of crimes apparently committed by migrants in Germany.
Speaking to BBC WM, Miss Bassett said: "The insinuation that I hold ugly views is someone trying to carry out a little witch hunt against the Conservative party locally."
She added that she does not "necessarily agree with the sentiment" and people were "taking tweets out of context".
Her Twitter account has now been protected and taken out of public view.
Solihull Metropolitan Borough Council said the complaint has been passed to the monitoring office.
It added the complaint will be dealt with "under the Code of Conduct procedure".
West Midlands Police has confirmed it is investigating Mr Potts after receiving two race hate allegations.
Mr Potts, who represents Knowle, asked is "anybody surprised?" while retweeting negative stories about immigrants on Twitter.