Tahnie Martin inquest: Woman killed by large falling lid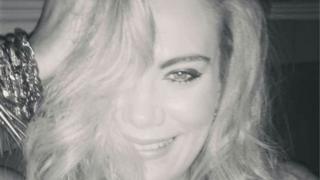 A piece of a timber that struck and killed a woman during Storm Doris measured more than 1.5m square, an inquest has heard.
Tahnie Martin was hit by the rotten timber falling from the roof of a six-storey building in February.
Many other people, including 10 children, were seen in the area moments before the incident.
Ms Martin, 29, from Stafford, died after suffering head injuries near Wolverhampton's Mander Centre.
Midlands Live: Homeless man admits killing mother and son
Ms Martin, who worked at the University of Wolverhampton, was struck by the piece of wood from the lid of a redundant water tank on 23 February.
The inquest was told Ms Martin was killed just weeks after getting engaged. Her fiancé Shaun Lee said they were planning a family and "she had so much to live for".
Three clasps attached to the tank were found to be "rotten and weather damaged" during an inspection which found that the lid had come away.
Ms Martin was walking with her colleague Raman Sarpal, who was knocked to the ground and treated for a leg injury.
Witness Rebecca Cresswell said: "I had a clear view, watching [the lid] fall from the sky like a leaf," she said. "It took 10-20 seconds to get from top to bottom."
The inquest continues.