Alleged Birmingham IS-recruiter is 'anti-terrorist'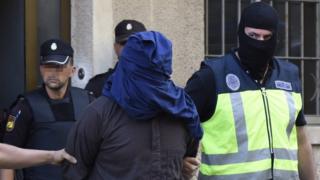 An imam accused of recording videos encouraging people to fight for so-called Islamic State has been an "anti-terrorist" for 20 years, a court heard.
Tarik Chadlioui, 43, from Birmingham, was one of six people arrested across Europe in June as part of a Spanish investigation into support for the extremist group.
He claims the videos were in fact seeking to deter Muslim support.
He is wanted by Spanish authorities but is contesting extradition.
See more stories from Birmingham and the Black Country here
Spanish authorities allege Mr Chadlioui made three pro-jihadi videos for extremist forces in Syria, during two visits to Mallorca in 2014 and 2015.
He faces a charge of collaboration with, or membership of, an armed group for which the maximum sentence is 20 years imprisonment.
Mr Chadlioui claims the videos are anti-jihad, especially when viewed with a fourth video that was never posted online.
At an extradition hearing at Westminster Magistrates Court on Thursday, Mr Chadlioui's barrister Malcolm Hawkes said the defendant "is an anti-terrorist".
"He has uploaded thousands of videos to YouTube," Mr Hawkes said. "This is what he does, he is an anti-terrorist preacher."
Mr Chadlioui, a Belgian national, moved to Sparkhill in Birmingham in 2015 where he has eight children.
He is contesting his extradition which his barrister argues is "a clear interference with his right to a family life".
Mr Chadlioui has been remanded in custody until 3 October.