Walsall Council advised to shut fatal level crossing three years ago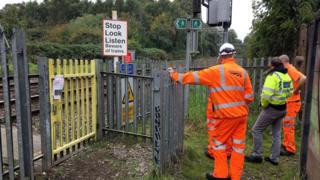 A level crossing where a 14-year-old girl died after being struck by a train was recommended for closure three years ago, it has emerged.
Network Rail said it requested Walsall Council close Wallows Lane foot crossing, near Bescot Stadium station, on safety grounds in 2014.
The schoolgirl died at the crossing on Tuesday in what officials say appears to be an accident.
The council said there were discussions but no formal application was made.
Terry Wootton, who works in a warehouse that runs alongside an alleyway leading to the crossing, said he ran to the scene at about 15:30 BST after the girl's friend came looking for help.
"I ran with him and dialled 999 and told the ambulance and the first thing I saw was that school books had been strewn down the track.... When I could see her, it was horrific. Just horrific," he said.
"I could see she had gone. I haven't slept since."
British Transport Police said the girl had been crossing tracks after a freight train had gone by but was struck by a train going in the opposite direction.
Mr Wootton said he believed both trains' hooters sounded at the same time, leaving her unaware the second train was coming.
He criticised the safety of the crossing, used by children as a cut through to two schools, describing it as "something from the Dark Ages"
"It's just a picket gate and a sign to say 'watch the trains'. There needs to barriers or lights and warnings that trains are coming."
Network Rail can only advise or recommend that authorities close crossings.
Walsall Council confirmed the parties talked about removing the public right of way across the crossing three years ago and did not object.
Had there been a formal application after that, the council would have consulted upon it, it added.
The authority and Network Rail are now looking at the future of the crossing, which is currently closed.