Flats in Wolverhampton evacuated after burst water main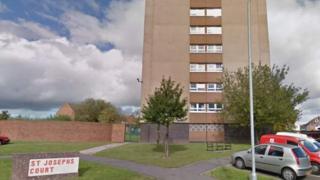 A 15-storey block of flats was evacuated overnight after a water main burst.
West Midlands Fire Service said about 79 people were moved from the flats as water leaked into the power main. One resident described her corridor as being like a river.
The fire service was called at 23:44 BST to St Josephs Court, Leasowes Drive, Wolverhampton.
Residents from the 15th floor to the eighth floor were evacuated.
They were taken to a nearby housing office and community centre.
Those living on the seventh floor down of the Wolverhampton Homes block remained in their homes, but without power or hot water, the council said.
See more updates on this and other stories from across Birmingham and the Black Country here
Western Power also attended to isolate the power supply and the fire service dealt with the "severe flooding".
City of Wolverhampton Council tweeted advice for residents who were evacuated:
Resident Christine Endean said the corridor was "like a river".
Ms Endean, 53, said she saw workmen and firefighters near the entrance "after hearing a crackle on the intercom" but went back to bed.
She was woken by a firefighter knocking on her door at about 02:30 BST asking her to leave the property, which is when she saw the flooded corridors.
A spokesman for Wolverhampton Homes said it had started to move residents back inside but power could still be off until the late afternoon or evening.
"We have provided them with breakfast and some snacks to look after them, but we have some further work to do.
"They have been remarkable, absolutely remarkable," he said.