Motorist attempts to put engine fire out with smoothies and milk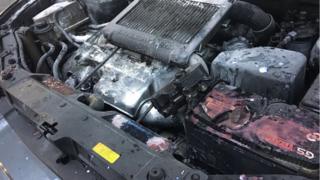 A driver whose car engine caught fire attempted to put out the flames using smoothies and milk before dialling 999.
Fire crews were called to the scene on Clent Road in Oldbury at 18:24 BST on Monday after the juice proved insufficient to get the job done.
Smoothie manufacturers Innocent have since offered to replace the driver's make-shift fire extinguishers.
Firefighters who worked to tackle the fire in Sandwell said it was something they had "never seen before".
West Midlands Fire Service tweeted it was a "unique" way to tackle a fire.
However, it advised it was "better to let us professionals deal with it".