Dudley MP's office evacuated after white powder letter delivered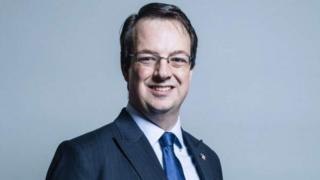 An MP's office was evacuated after an envelope containing white powder and an anti-Islamic letter was opened.
The letter was delivered to Dudley South MP Mike Wood's office in Dudley, West Midlands, at about 10:30 BST.
Workers were told to leave and the caseworker who opened the letter was quarantined and put by paramedics in a hazard protection suit.
The Conservative MP, who was not in the office, said people were "shaken" but had since been allowed back in.
See more stories from Birmingham and the Black Country here
West Midlands Police, which is investigating the incident at the office in High Street, Wordsley, said it was not thought the powder was harmful. Tests to establish what the substance is are continuing.
"We don't know what the white powder was, whether talcum powder of something more sinister," Mr Wood said.
"It has left people very shaken. Clearly constituency offices are fairly vulnerable."
The quarantined case worker was assessed by paramedics and did not seem to have suffered any obvious ill effects, police said.
Mr Wood said: "This does seem it was very low risk, it could have been a lot worse."