Kingsley Burrell death: 'He was treated like a terrorist'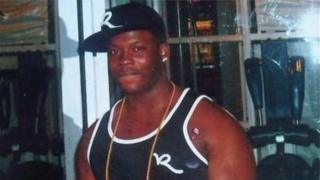 On 27 March 2011, Kingsley Burrell was detained after a disturbance at a shop in Birmingham. Four days later he was dead. While an inquest into his death concluded prolonged restraint and a failure to provide medical help contributed to his death, no-one has been held responsible. As three police officers are cleared of lying under oath at his inquest, the family of Mr Burrell tell the BBC of their continued fight for justice.
"There's a saying in Jamaica - when you've lost a child, that labour pain comes back. When he died, that pain came back."
Janet Brown remembers her son as a quiet boy.
Born on 8 July 1981, Kingsley Burrell, who grew up in Winson Green, Birmingham, was the second of three children and incredibly close to his sisters, Lorraine and Kadisha.
"From a little boy growing up, he was very quiet," his mother recalls.
Kingsley Burrell custody death officers cleared of lying
"Even when he became a young man he was still quiet. He wasn't a person that [would] regularly go out. He was a family man, he was always in the house."
Family was everything to the Liverpool FC fan, and while Janet was studying at Bangor University, it was Mr Burrell who would sit with her mother while she was away.
"He was the main one to do a lot of things and that's who I left in charge," she said.
"Without him, life is strange.
"It's like, you know he has passed away but you are in denial. You hope he is coming through the door, [but] you know he isn't going to come through the door."
Despite their two-year age gap, Kadisha Brown-Burrell, 34, says she and her older brother were "like twins".
"We were very close as siblings and very close up until the day he died," she said.
"Kingsley was always adventurous, he used to like to go and find things out. He used to dwell in the garden a lot and play out with friends.
"We used to have a group of friends on the road that we would play out with, we would go riding and cycling together, swimming together, and even as we were older we used to go clubbing together. We were always tight."
She remembers her brother's "calm and collected" demeanour.
"He wouldn't speak unless he was spoken to," she says.
A devoted father of three, Mr Burrell made sure he picked his niece up from after-school club every Tuesday while Kadisha was studying.
He was into garage music and prided himself on his designer wardrobe, which he used to meticulously hand wash "because mum once ruined his clothes in the washing machine", Kadisha laughs.
But on Sunday 27 March 2011, the family's lives changed forever.
Kadisha spoke to her brother on the Friday before his death, during which there was no sense of anything being wrong other than a concern over a paternity test.
But on Sunday, when she was unable to get in contact with him, she instinctively knew something was awry.
"Alarm bells started" when she got home, she said. It was then she was told her brother had been detained under the Mental Health Act.
It transpired that Mr Burrell had dialled 999 from a supermarket in Winson Green, saying he was being threatened by gunmen.
An inquest into his death was told he believed two men were threatening him over the paternity dispute involving an ex-girlfriend.
---
Timeline of events
27 March 2011 - Kingsley Burrell is detained under the Mental Health Act after contacting police
31 March 2011 - Mr Burrell dies in hospital
April 2011 - Independent Police Complaints Commission (IPCC) launches investigation
August 2012 - Mr Burrell's funeral takes place after his body is released
July 2014 - Crown Prosecution Service (CPS) say there is not enough evidence for charges
May 2015 - An inquest finds restraint was a factor in Mr Burrell's death
October 2015 - The IPCC asks the CPS to review its decision on charges
July 2016 - Mr Burrell's family calls for answers from the CPS
August 2016 - The CPS tells the Burrell family a decision over whether anyone will face charges is imminent
October 2016 - Three police officers are charged with perjury and perverting the course of justice in relation to evidence given at Mr Burrell's inquest
September 2017 - The trial of the three officers begins at Birmingham Crown Court
October 2017: The officers are cleared of perjury and perverting the course of justice
---
However, when police arrived they decided no firearms offences had taken place and described Mr Burrell as being in an "agitated state".
He was taken to a mental health unit before being moved to hospital.
Inside the ambulance, there was an altercation between officers and Mr Burrell. Officers said he had "gone berserk" and had to be restrained.
Kadisha visited her brother in hospital and was concerned about his condition. He had a lump on his forehead and wrists swollen from the restraints.
"Kingsley didn't have any mental health illness," she said.
But just a few days later, he suffered a cardiac arrest and was pronounced dead on Thursday 31 March.
"He was on life support for 24 hours but we knew Kingsley had gone from Wednesday," Kadisha said. "We knew physically that he wasn't coming back."
In 2015, the inquest jury ruled that prolonged restraint had been a factor in Mr Burrell's death, as well as failure to provide basic medical attention.
A blanket that was put over his head should have been removed, the jury added.
It was not the verdict his family had hoped for.
"I wanted unlawful killing, I wanted something bigger than that," Janet said.
Mr Burrell's relatives have maintained he was restrained using excessive force, but in July 2014 the Crown Prosecution Service said there was "insufficient evidence" to charge anyone in connection with his death.
The inquest's verdict forced a reopening of the investigation and the Independent Police Complaints Commission asked prosecutors to consider the family's allegation that police officers had lied under oath - which resulted in the latest proceedings.
But for the family, more must be done for them to feel they have justice.
"Throughout the whole six years it's been obstacles placed in our way at every step," said Kadisha.
"It took 18 months for Kingsley's body to be released, four years for the inquest to take place and an additional two years to where we are now.
"It goes to show that no matter how long it takes, we are still going to be here fighting every step of the way."
Ultimately, the family hopes to see criminal charges brought over the death and a public inquiry, says Desmond Jaddoo, chair of the Justice for Kingsley Burrell Campaign.
"All we are asking [is] why is he no longer with us, what happened to him? That's what we really want to find out," he said.
And while Janet accepts nothing will bring her son back, she says she "can't rest" until someone is "made accountable".
"The family will continue the fight irrespective [of the officers being cleared]," added Kadisha.
"The way he died, he was treated in an inhumane way. He was treated like a terrorist."
"[Losing a brother], it's like losing part of you.
"It still feels like part of me is gone."