Man's leg 'mutilated' by police dog in Birmingham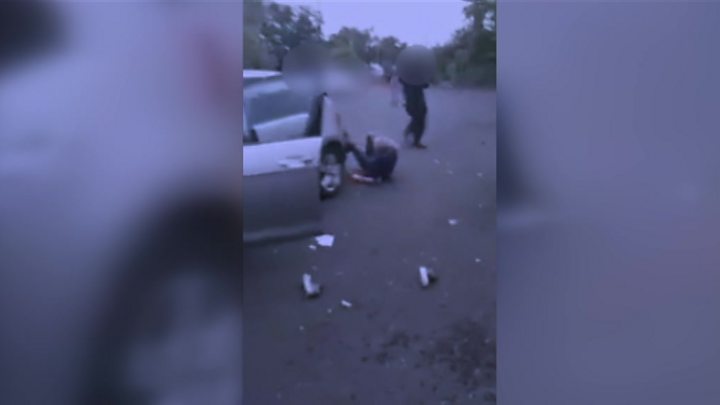 A man shown being dragged along the floor by a police dog faces surgery on his leg.
Widely-circulated mobile phone footage appears to show Andy Cash, a traveller, on the floor with a police dog clamped to his leg.
Police had been called to an alleged theft in Birmingham on Monday when the incident happened.
There has been no complaint but the matter has been referred to the police watchdog, West Midlands Police said.
"Although no complaint has been received, the matter has been referred to the Independent Police Complaints Commission (IPCC) to assess the conduct of the dog handler," a statement said.
The force said officers arrested two people after a report of roof tiles being taken from a building at the Old North Worcestershire Golf Course. Mr Cash, 34, was arrested on suspicion of obstruction and has been released pending further investigation.
A 31-year-old woman, his wife Bernadette, was later released without charge.
Mr Cash, in hospital waiting for surgery, said he was talking to police and as the situation became more heated the dog was released and "latched on" to him.
"I can hear my children screaming in the background and then he [police officer] says 'let go of the dog, let go of the dog'.
"Then he's pulled the dog like six or seven feet across the car park and the dog dragged me.
"I was tumbled over by the dog as the dog was destroying my leg."
He said he may need to undergo more surgery after sustaining about six wounds in total after the dog "mutilated" his leg.
His wife added: "They let that dog eat my husband like a bone. It was a treat for the dog."