Sainsbury's Blackheath fire: Boy jailed for admitting explosive charges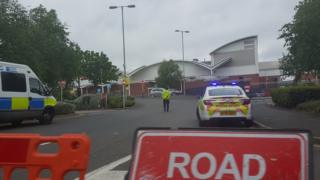 A 16-year-old boy has been jailed after setting off an explosive device in a Sainsbury's toilet.
Armed police were sent to the store in Blackheath, West Midlands, in May following reports of an explosion and a man in possession of a knife.
The incident happened amid heightened security levels, five days after the Manchester Arena attack.
The teenager had admitted explosive charges and having a knife and was jailed for four years and four months.
Police searched the area around the store, closed several roads and deployed the force helicopter at the time of incident on 27 May, but said it was not thought to be terror related.
The teenager had researched how to make an explosive device on the internet and ignited it in the store's male toilets at about midday, police said.
He then ran away as customers and staff were evacuated. He was subsequently apprehended nearby in possession of two knives, they added.
At Wolverhampton Crown Court on Friday, the boy - who was 15 at the time - was jailed for committing acts likely to cause an explosion that were likely to endanger life or property, and for making an explosive substance under suspicious circumstances.
Det Con Antony Hammerton said: "The lad has never explained why he caused so much damage and disruption to shoppers, retailers and the emergency services, other than to say he was not motivated by any religious or racial reasons.
"He now faces a substantial custodial sentence at such a young age, where I hope he will get some much needed rehabilitation and on-going support."