Birmingham fly-tipping business owner jailed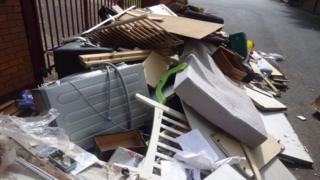 A man who ran a business fly-tipping waste in Birmingham has been jailed for two-and-a-half years.
Andrew Smithson, 33, from Perry Barr, dumped furniture, carpets and domestic and builders' waste on residential streets for three years.
He advertised his services online, where it was claimed waste would be disposed of legally and recycled.
Joel Ducille, 26, from Great Barr, admitted working for Smithson and was given a 10-month suspended sentence.
See more stories from Birmingham and the Black Country
Ducille was also sentenced to 100 hours of community work.
The men were sentenced at Birmingham Crown Court.
Birmingham City Council said the pair were observed dumping waste at locations in Aston, Hockley, Kings Norton, Kings Heath, Oscott and Perry Barr between 28 May and 2 December 2015.
Smithson's waste collection service was advertised online claiming to be a registered waste company and that all waste was recycled and disposed of in accordance with Environment Agency guidelines, the council said.
A spokesman from the council welcomed the sentences as a "really positive message" that anyone fly-tipping in Birmingham would face tough action.