'People power inspires' £2.2m Birmingham housing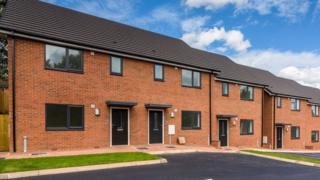 A £2.2m housing development in an "abandoned" area has been unveiled after residents got together with the aim of transforming the site.
New homes were built and older ones refurbished at Copeley Hill, Birmingham, a former "eye sore", the group said.
The residents took action when "it saw its community going into decline," it said.
"It's local people taking control of their own futures," a spokesman said.
The homes have "transformed" a site left derelict after being bombed during World War Two and then cut off from the rest of the community by Spaghetti Junction, the group, known as Stockland Green Opportunity Housing and Training, said.
Ten homes were refurbished and another 14 built.
A further 20 houses over the next four years are now being planned.
Read more news for Birmingham and the Black Country
The action group formed in 2013.
Chairman and councillor Penny Holbrook said: "It's local people taking control of their own destiny.
"[There have been] loads of meetings [and] lots of visits to other parts of the country to see what others were doing [and people] not giving up when things get tough."
The group joined forces with another not-for-profit organisation, housing provider The Pioneer Group, who oversaw the building and will now look after the houses.
The Stockland Green residents spent about 12 months trying to raise the funding and the Pioneer Group also provided £1m to refurbish 10 homes.