Campaigners fundraising to save arson-hit Cadbury barn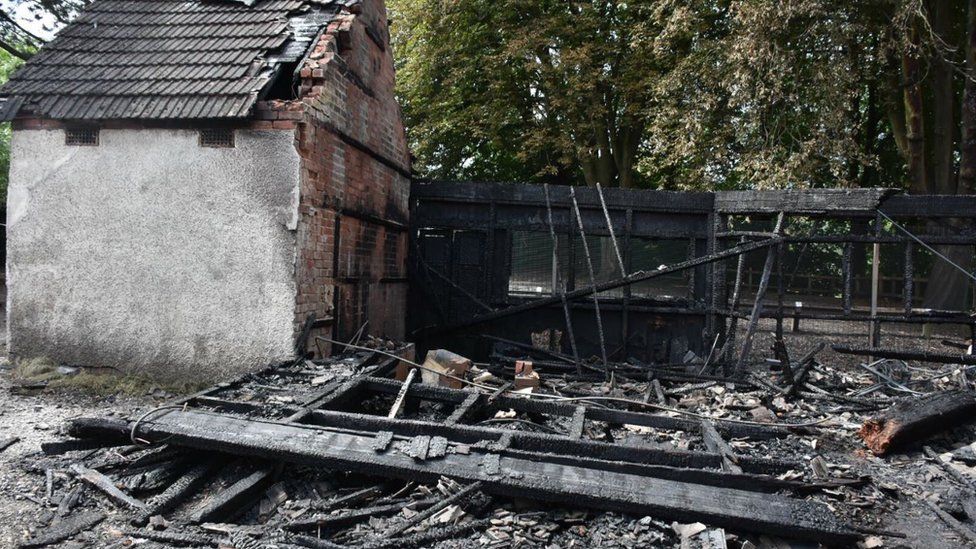 Campaigners are fundraising to rebuild a 19th Century barn which once belonged to the Cadbury family after it was destroyed in an arson attack.
The barn, in Manor Farm Park, Birmingham, was set on fire at about 03:00 BST on Monday.
Campaigners say they are "devastated" but plan to start a crowdfunding scheme to design a new building on the site.
West Midlands Police said they were investigating the attack and no arrests had been made.
The Friends of Manor Farm Park said they had been working for some time to restore the barn and reopen it as a community amenity.
"After the attack, we were in shock. The buildings were smouldering, along with our dreams of turning the barn into a community facility," said Lesley Pattenson, from the group.
"It is a huge set back. We had all the plans drawn out.
"However, although this tragedy is a set back to our plans, we are still determined to create a multi-use community meeting place with a café and toilets."
The barn was built in 1895 by George and Elizabeth Cadbury, from the famous family of chocolate manufacturers, who once owned the land
It was used as a party venue for children from deprived areas of Birmingham and the Black Country
The park and all the buildings were passed to Birmingham City Council in 1954
The group said it was appealing for photographs from the community of the building before the fire and would work with conservation experts to save as much of it as possible.
"The barn was a unique wooden building with very unusual decoration. That has now gone," Ms Pattenson added.
"We are hoping we may be able to save a few pieces of the timber and incorporate it into any new community building we can get erected."
Related Internet Links
The BBC is not responsible for the content of external sites.