Wolverhampton police officer's shopping centre dance filmed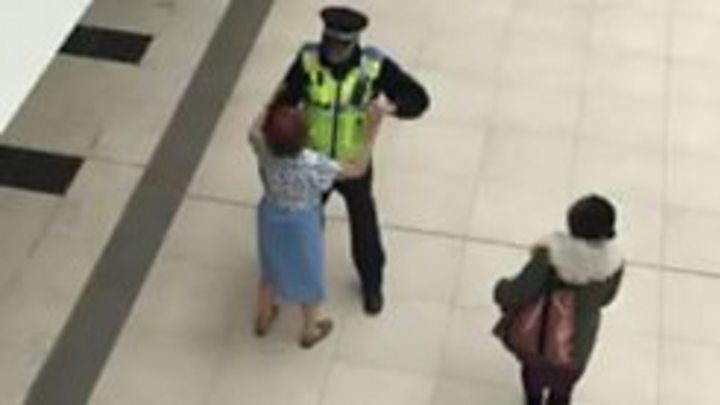 A video of a police worker dancing with a stranger in a shopping centre has been viewed online more than 50,000 times.
PCSO Steve Hopley was filmed waltzing with the unnamed woman in Wolverhampton's Mander Centre.
Despite not dancing for 30 years, the officer was persuaded by a colleague to join in when he saw people dancing in the shopping centre.
He said there had been a "very positive" reaction to the video.
"It shows the normal side to West Midlands Police", he said.
Watch police officer dancing with young concert-goers in Manchester
PCSO Hopley was on his way to patrol the shopping centre with his colleague on Tuesday when they saw people dancing.
'Twinkle Toes'
"I said to my colleague, 'I used to do that many years ago', and then he went off, and the next thing I know he's brought one of the dancers over to dance with me," he said.
Chloe Blower, 19, from Wolverhampton, filmed and posted the video online.
"I thought it was amazing. It just goes to show that whatever's going on, we'll still come together," she said.
The video has also garnered PCSO Hopley a new nickname. "They call me 'Twinkle Toes' now," he said.
"I put a uniform on and I have a role to fulfil. It just happened that I had some free time and got to be involved in a community event."