Business feels force of unexploded Aston WW2 bomb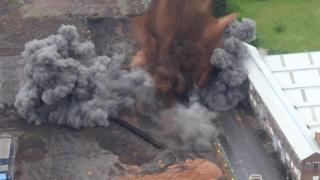 The detonation of a large World War Two bomb that forced a major route in Birmingham to close for almost two days has damaged a nearby business.
A controlled explosion was carried out on Tuesday at about 15:30 BST after army personnel created a sand "igloo" around the 250kg device.
Zakir Husain owns a factory near to the bomb site in Aston and said windows have "shattered".
Mr Husain said the council have been slow to clear debris.
More stories from Birmingham and the Black Country
Mr Husain of ZHK Plastics, which employs 14 people, said he has not yet been told when he can go back into the building.
"The council have been a little slow, they didn't clear the road, that's why I can't open my business."
He added the council have said they need to check the structure and make sure it is safe before business can return to normal.
"From Monday my business [has] been closed, every day I am losing thousands...it's been a very big loss."
The company makes refuse sacks and is a "24/7 operation" that only closes on Christmas Day.
Exit and entry slip roads of the M6 at junction six, Spaghetti Junction, were closed on Monday morning after the discovery at a construction site.
The closure of the A38(M) Aston Expressway caused long delays for drivers, cancelled rail services and led to the evacuation of hundreds of homes.
Residents slept in a gym overnight as a police cordon was put in place.