Ill-gotten gains pay for police training centre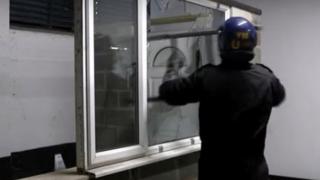 Ill-gotten gains recovered from criminals have paid for a new training centre for police staff.
West Midlands Police said there was a "sweet irony" to officers using the centre for forced entry training when it had been paid for by money paid into the Proceeds of Crime Act (POCA) fund.
The base in Aston, Birmingham was largely paid for by a £30,000 donation from the fund, police said.
Last year West Midlands Police spent £800,000 of POCA cash on projects.
The money is mainly used to fund community crime prevention projects and comes from money convicted criminals have been ordered to pay back.