Wolverhampton gas blast family return home one year on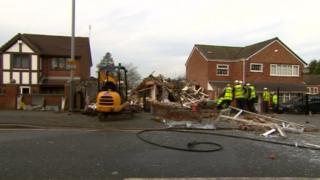 A family whose home was badly damaged in an explosion have finally been able to return.
Daljit Uppal's house was damaged after a suspected gas explosion completely destroyed the house next door on 28 December 2015.
The family have just been able to start moving their belongings back in to the house in Penn Road, Wolverhampton.
Mr Uppal said he was "delighted". The family stayed with relatives and in a rented home while repairs took place.
See more stories from across Birmingham and the Black Country here
The move started on Monday and Mr Uppal said it was expected to take about two weeks.
An extension has been completed and the inside has been redecorated with new carpets, floors and tiles.
"We are delighted and just trying to get [everything] in there," said Mr Uppal.
"It's a bit stressful doing all the running around. It's like moving house again."
The blast totally destroyed Wendy Ayoub's home. She was rescued from the site and treated for cuts and a broken ankle.
Following the explosion, emergency services said Mrs Ayoub, who was trapped for about two hours, appeared "to have been saved by her washing machine holding back additional rubble and timbers".
She hopes to move back and plans have been submitted for a new two-storey property at the site.
Mr Uppal added: "Work is starting on her house very soon. It's imminent and it will be good to have her back."
The cause of the blast remains unknown.