Jaguar Land Rover engines theft suspects arrested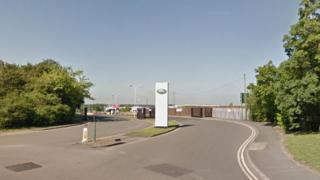 Four men have been arrested after engines reportedly worth £3m were stolen from Jaguar Land Rover.
A stolen truck is believed to have been used at the firm's Solihull site to hook up to trailers that were later found empty.
The men aged 29, 40, 47 and 56 were arrested on suspicion of conspiracy to steal and have been released on bail.
Meanwhile, West Midlands Police said engines stolen from the plant in Lode Lane had been recovered in dawn raids.
See more stories from across Birmingham and the Black Country here
The engines were seized at locations in Kingsbury Road, Minworth, and Bermuda Industrial Park, in Nuneaton, on Monday, police said.
They will be forensically examined by specialist officers.
Jaguar Land Rover said it was offering a reward for information about the theft, which occurred late on 31 January.