Colmers School pupil stabbed after hammer attack on shopkeeper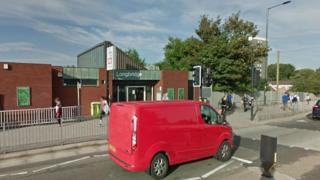 One boy was stabbed and a shopkeeper was hit with a hammer in a series of incidents that also saw a group of about 20 youths chase school pupils, police have said.
Colmers School & Sixth Form College in Rednal, Birmingham, wrote to parents after Year 10 pupils were targeted.
Head teacher Barry Doherty said one boy was kicked and punched and another wounded with a knife.
Five people, aged 16 and 17, were arrested on suspicion of assault.
Read more Birmingham and Black Country stories
The shopkeeper was hit with a hammer when he challenged boys in nearby Frankley. He suffered a head injury, police said.
A man on a bike was also assaulted near a branch of McDonald's on Bristol Road South, Rubery.
Police released details of the 3 February incidents earlier.