Appeal over wedding photos taken in Walsall break in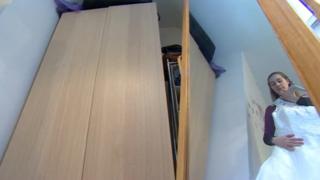 A bride is appealing for her wedding day photos to be returned after they were stolen during a break-in.
Amy Blount married husband Chris at a church in the Lickey Hills, Worcestershire, in January.
A friend of the couple acted as the wedding photographer, taking pictures throughout the day.
But his home in Walsall was broken into last week, and a laptop and hard drive where the pictures were stored was taken.
Friends and relatives invited to the 160-guest wedding took pictures on their phones, so the couple still have those to look at.
But only the official photographer was allowed to take pictures inside the church, so the Blounts, of Shard End, Birmingham, have no record of the ceremony.
"I was really devastated at the time (of the theft)," Mrs Blount said.
"It's a very big day in my life and the photos represent the whole day."
West Midlands Police said they were called to a reported burglary in Somerset Road, Walsall, on 2 February.
An Apple Mac computer, a Canon EOS 600D camera and accessories were taken.
"If anyone knows of anything or happens to have the memory card or hard drive with the photos on, if they can return them that would be amazing," Mrs Blount said.