Drivers face M5 closures over 18 months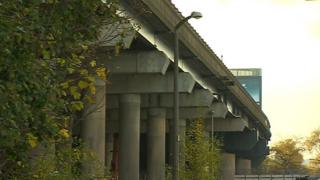 Motorists face 18 months of closures and reduced speed limits along a busy stretch of the M5.
Repairs to the Oldbury viaduct will mean a section of the route, between junctions 1 and 2, will be affected from April.
Alternate sides of the carriageway will be closed while work is carried out, and the speed limit brought down to 30mph (48km/h).
The viaduct, built in the 1970s, must be waterproofed and repaired.
Highways England said the work would take six years if both carriageways were kept open.
Read more news for Birmingham and the Black Country
Work will start on the southbound carriageway and, once it is closed, all traffic will be moved across on to what are usually the northbound lanes.
There will only be two lanes in each direction rather than the usual three, Highways England said.
It said it was asking people to start thinking about travel arrangements "so that it doesn't come as a surprise" when the scheme starts in April.
The last round of major maintenance on the viaduct, which is crossed by about 160,000 vehicles daily, was in 1987.