Walsall Council cuts: 281 jobs and nine libraries to go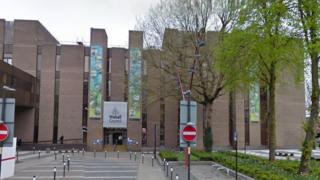 Hundreds of jobs will be axed and nine libraries will close under budget proposals announced by Walsall Council.
Council tax will also rise by 4.99%, as the Labour-Lib Dem coalition authority faces budget cuts.
But the future of the New Art Gallery, which has faced the threat of closure, is set to be secured as the council looks to develop a new business model for it.
The authority said it must save £86m by 2020.
See more stories from across Birmingham and the Black Country here
The draft budget was outlined during a briefing on Tuesday.
It will see 281 jobs axed, while a further 139 vacant posts will be not be filled. Job losses will be made up of voluntary and compulsory redundancies, the council said.
'Profound and stark cuts'
Libraries will close in Beechdale, Blakenall, New Invention, Pelsall, Pleck, Pheasey, Rushall, South Walsall and Walsall Wood.
Council leader Sean Coughlan said libraries faced "one of the most profound and stark cuts".
"Every political side knew we had to do something about libraries and that's what we have had to do," he said.
"We have faced the biggest cuts this council's ever had before."
The council will retain six libraries and a community library is planned for Streetly.
A £3.5m funding bid to Arts Council England and other stakeholders has also been submitted to develop a new business model for the New Art Gallery.
The council has mooted selling off naming rights to the gallery, but Mr Coughlan insisted it would not be "the McDonald's Art Gallery".
Council tax for Band D properties will rise to £1,744.04, including precepts - subject to confirmation of final precepts - up from £1663.29.