Birmingham enjoying "well-deserved boom", report says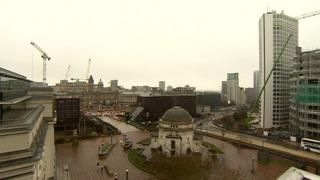 Birmingham is enjoying a "well-deserved boom" with office construction at record levels, a report has said.
Deloitte's Birmingham Crane Survey 2017 said seven major new office starts were recorded, "matching the highest level seen in our survey history".
The report said 10 new residential schemes had been started and confidence in Birmingham has "led to a massive increase in residential development".
Costs of office space in central London have also benefitted the city.
See more stories from across Birmingham and the Black Country here
---
Key findings:
1.45m sq ft of office space under construction, a 50% increase on the previous year
Seven new office starts
A surge in residential development, with more than 2,300 units being delivered over the next three years
1,166 student bed spaces under construction - up 40% on the previous year
508 hotel beds under construction
Source: Deloitte Birmingham Crane Survey
---
The annual crane report said developer confidence has been reinforced by growth in financial services, increasing activity stimulated by HS2 and the lack of supply available for immediate occupation.
Several schemes under way include the Paradise scheme, which will include offices, residential and leisure.
The report adds: "With a record number of new developments around the city across all sectors, Birmingham is enjoying a well-deserved boom.
"The test will be to sustain the level of development in forthcoming years."
Neil Rami, chief executive of Marketing Birmingham, said: "Birmingham is embarking on an unprecedented construction spree as it bids to meet record demand created by new and relocating businesses to the city as well as inward investors.
"Major developments underway such as Paradise, Arena Central and Three Snowhill will transform the city's skyline, with schemes such as HS2 and the £1bn Curzon Investment Plan set to galvanise the region's global standing, driving forward the economy for generations to come."