Man, 81, has arms broken by burglars at his Oldbury home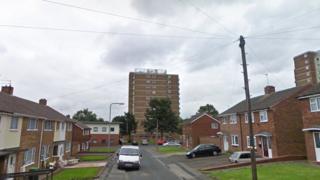 An 81-year-old man has been left with "badly broken" arms after being attacked in his home.
The man, from Chaddesley Close, Oldbury was woken by burglars and then attacked by a masked man wielding a metal bar when he confronted them.
The victim was left severely shocked and remains in hospital.
Money and a mobile phone were taken in the incident during the early hours of Saturday. Police said they were "sickened" by the attack.
Det Con Beth Weir West Midlands Police said: "I've been left sickened by the sheer level of violence used on this man. He's 81, what kind of bullies do that?"
Read more news for Birmingham and the Black Country
She asked for anyone with information to contact them.
One suspect is described as a white , aged in his 30s, 6ft with a fit, athletic build and was wearing a Phantom of the Opera mask.
The second white, 5ft 10ins with a heavy, strong build. Both men spoke with fake, Irish accents, police said.