Owners of stolen Akita puppy Rosco posed as buyers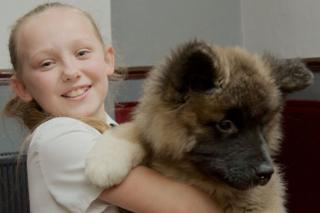 The owners of a stolen puppy posed as potential buyers to rescue their pet who had been put up for sale online.
American Akita puppy Rosco escaped from his garden in West Bromwich and two weeks later was advertised on Gumtree.
His owners arranged to view the dog but the police turned up instead and arrested a 28-year-old man on suspicion of theft, said West Midlands Police.
Rosco's microchip confirmed his identity and he was reunited with the family of Zoe Picken, 10.
The man who had the dog admitted theft by finding and has agreed to take part in a community resolution that will see him apologise to the family, said the force.
Zoe's mother Katherine said a friend had alerted her to Rosco's photograph on the buying and selling website.
"We made out we were interested buyers and arranged to go and see the dog… but it was just to give us enough time to contact the police," she said.
"They went over that afternoon and brought Rosco back… we're over the moon to have him home. Zoe hasn't stopped smiling since."