Four inmates charged with mutiny at HMP Birmingham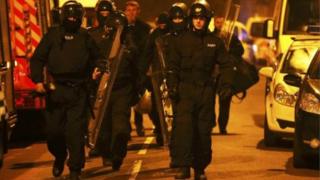 Four prison inmates have been charged with prison mutiny after last month's riots at HMP Birmingham.
Carl Brookes, 32, Ross Wilkinson, 23, Luke Mansell 23, and Nathan Weston, 22, are accused of taking part in a prison mutiny.
All four men will appear before magistrates on 17 January.
The offences are alleged to have been committed on 16 December, when the privately-run jail was the subject of disorder.
Brookes, who is now being held at HMP Hewell in Worcestershire, is further accused of taking a photograph without authorisation during the disturbances at HMP Birmingham.
More updates on this and other stories in Birmingham and the Black Country
Two other men charged with prison mutiny were remanded in custody by magistrates earlier this month and are due to appear at Birmingham Crown Court on 3 February.