New Year reveller hit by car in Sandwell dies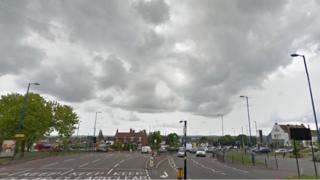 A man died when he was hit by a car while out celebrating the New Year in the West Midlands.
The 43-year-old was struck in Wolverhampton Road, near the junction of Hagley Road West in Sandwell, just before 20:00 GMT on Saturday.
A 46-year-old female driver involved in the collision stopped nearby and was assisting investigators.
Det Con Jamie Simon, of West Midlands Police, said it was "an extremely sad start" to the New Year.
A spokesman said: "The junction where the collision occurred is very busy, probably more so last night with people heading out for New Year, and I have no doubt several people will have seen what happened or witnessed the build-up to the incident."