Free Christmas fish and chips for Birmingham homeless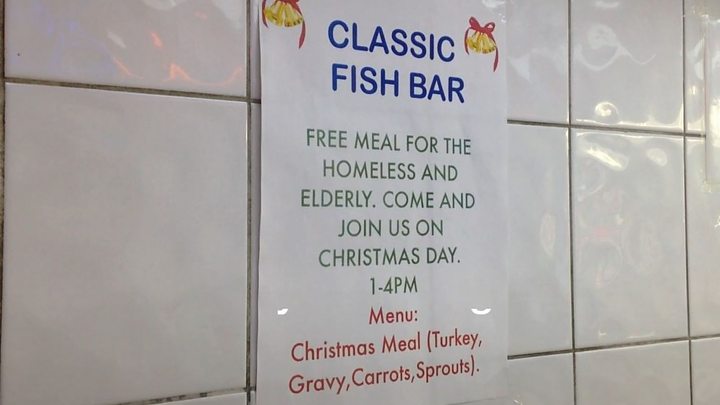 A chip shop is opening up on Christmas Day to give free turkey dinners to the homeless and elderly.
Brothers Hamid and Asef Faqiri who own and run Classic Fish Bar in Birmingham want to "help those in need and make people in the community happy".
Asef said he has seen a lot of homeless people in the two years they have been there and always tries to help.
The takeaway dinners will be available from the Erdington High Street shop between 13:00 and 16:00 GMT.
Asef, who feels he has seen a rise in the number of people sleeping rough in the area this year, said he felt sorry for them.
"I'm here in the day and I see a lot of homeless people here. They ask for chips or whatever and we always try to help," he said.
More updates on this story and others in Birmingham and Black Country
"So we thought well, it's Christmas, its a good thing to give them a little bit to smile about.
"We want to see the community people here happy."
A sign has been put up in the shop window informing those in need they can enjoy turkey, gravy, carrots and sprouts courtesy of the fish shop and shared on social media.
Asef said does not mind working on 25 December as he is happy to help those in need.
"Anyone who really needs it, we will give them the dinner."