Thief Ann O'Halloran 'strips off over bus mobile phone theft'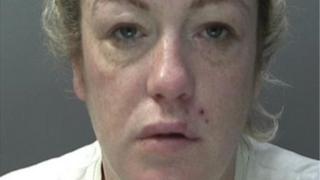 A thief who stole a phone on a bus stripped off to prove she did not have it when challenged by passengers, said West Midlands Police.
Ann O'Halloran, 35, from Birmingham, took the phone from a passenger, then passed it to a friend before taking her clothes off and running away.
She has been jailed for 12 months and banned from all city centre bars, pubs and cafes, for a string of thefts.
Police said O'Halloran had shown no remorse for her crimes.
More updates on stories in Birmingham and the Black Country
She targeted people in pubs and restaurants and took their coats, handbags, phones and a purse from a baby's pushchair while the child was still in it, police said.
While on the the number 10 bus leaving the city centre in September, she "climbed all over" the passenger and stole his phone.
She was finally caught after she stole a handbag in a branch of Nandos.
A "quick-witted witness" called police and gave a good description of O'Halloran who was subsequently arrested in a nearby pub, police said.
O'Halloran, from Long Street, Sparkbrook, was jailed by Birmingham magistrates after admitting eight counts of theft and one attempted theft.