GP and health boss get suspended sentences for £153k fraud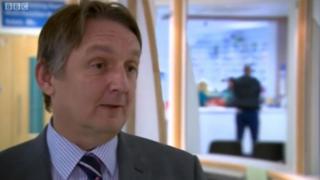 A GP and a senior health manager who fraudulently invoiced the NHS for £153,600 have been sentenced.
Dr Ian Walton and Lisa Hill admitted raising a false invoice from a charity where they were on the board.
They used some of the money, which had been set aside to cover "winter pressures", to train GPs, Birmingham Crown Court heard.
Judge Paul Farrer QC said the pair were not motivated by greed but their actions were "arrogant and dishonest".
They were both given two-year prison sentences suspended for two years.
More on this and other stories
Hill, 51, from Hagley near Stourbridge, was a senior commissioning manager with Sandwell & West Birmingham clinical commissioning group (CCG) and has since been employed by NHS trusts as a freelance training consultant.
Walton, 59, from Stourbridge Road in Wombourne, near Wolverhampton, has been a GP for more than 30 years and was a clinical lead on the CCG's board.
They both sat on the board of mental health charity Primhe which they used to raise an invoice to the CCG for £153,600 in March 2013.
'Paid for training'
The court heard the money had been set aside by the CCG for a "winter pressures" budget to deal with a seasonal rise in patients in the area.
Mr Farrer said "human error and a lack of proper scrutiny" of financial controls meant the NHS paid out on the invoice despite a lack of any formal signed authority or purchase order.
The court has previously heard Hill and Walton spent £57,000 on training for 69 GPs and "ring-fenced" a further £62,000 for future training.
The judge said Hill and Walton were "professional, caring and compassionate individuals" who had "worked tirelessly for the public good for many years" to improve mental health services, but said their "misguided desire to improve" led to behaviour that could not help but "erode public confidence" in the NHS.
He said: "You allowed your passion for mental health services to override both your judgment and honesty."