Birmingham man, 84, robbed of car keys at knifepoint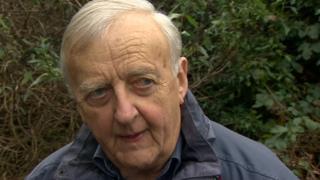 An 84-year-old jogger has said he had a knife held to his throat by attackers who stole his car keys on park land.
Michael Sheehan said he was kicked in the head, shoulders and ribs and robbed at knifepoint in Moseley, Birmingham.
He said he was very angry and it was now very difficult to sleep.
Police said they had reports a man had been approached on Thursday morning by up to four men who had taken his keys to steal his Skoda Octavia from a car park, but it had since been recovered.
Mr Sheehan said: "I shouted 'stop it'... If they want the car keys, they can ask for them... but why the kicking first? I don't know, so [I'm] very angry about it."
Mr Sheehan, from Moseley, said he was on a third lap of the recreation ground near Windermere Road when he passed four young men.
"One of them came up behind me, knocked me to the ground and started to kick my head and shoulders, ribs and called me some dreadful names.
"One of them said 'get the knife' and they produced a long knife and put it to my throat and said 'give me the... keys'."