101-year-old Ralph Clarke admits indecently assaulting young boy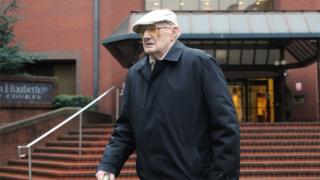 A 101-year-old accused of a series of child sex offences has admitted carrying out five indecent assaults on a young boy in the 1970s.
Ralph Clarke told Birmingham Crown Court the offences against the boy were "something that happened".
The retired haulier, of Erdington, Birmingham, has previously admitted nine sexual assault related charges.
He denies 22 other counts of indecent assault and indecency relating to two other complainants in the case.
Mr Clarke is thought to be the oldest defendant in British legal history.
He told the court he was "pretty well immune" to feelings when asked to describe how he felt when he heard about the charges.
"I just take everything in life as granted. I just asked the detective constable that came to my house who it was that had laid charges against me," he said.
Makeshift workshop
In connection to the charges he denies, Mr Clarke was asked about a makeshift workshop and argued there was no room in it for anything to have happened between him and the girls he is accused of attacking.
He told the jury: "What room was in there, I needed.
"I had always got a pile of kids around the garage because I used to repair all the bikes for them. They'd come from all over.
"All the children used to know me as 'Nobby'."
'Described as a monster'
Mr Clarke denied he had thought he had "got away with it after all these years" and said he had done nothing to prompt one of his alleged victims to describe him as a "monster".
Mr Clarke, of Holly Lane, who was allowed to sit while giving evidence, pleaded guilty last week to:
Two counts of attempting to commit and serious sexual offence
Two of indecency with a child
Five indecent assaults on a male person
The trial continues.